I am privileged to serve and work with a dynamic and loving community of Christians who have served Savannah and the Episcopal Diocese of Georgia since 1852. Liturgically and doctrinally we attempt to represent the Catholic and Reformed Faith of the Anglican Communion in its fullness.
Our Parish community is made up of all sorts and conditions of men, women and children pledged to support each other in our common life in Christ and for the building up of God's Kingdom. Our strength and stability is rooted in God as made known in the person of Jesus Christ. We live in dynamic relationship with our Lord here and now through the power and work of the third person of the Trinity, God the Holy Spirit. We test our apprehension of God's will for us and Creation against the traditional Anglican parameters of Scripture, Tradition and Reason – Scripture having the place of prominence. God has blessed us with an identity that is both challenging and life-giving.
Click on the following links if you would like to know more about the Episcopal Church , the Anglican Communion  or visit Anglicans Online.
If you are in the area come join us and allow us to benefit from the grace God makes manifest in you.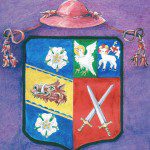 Father William Willoughby III, EdD KTJ OStJ,
Dean of Savannah and Rector of St. Paul's