Plants Feed the Soul: Photos by Edith Schmidt ~ February-March 2017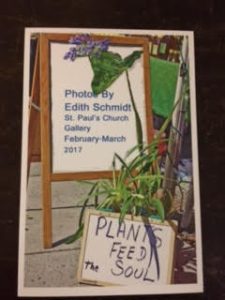 When I go to the Farmer's Market in Forsyth Park I take my digital camera along with me. The market is a colorful addition to the park and the neighborhood. I have enjoyed purchasing winderful, fresh produce and taking photos of the crowds, vendors and their wares.
One day i was in the market and saw this sign "Plants feed the Soul." I was struck by the aptness of the statement and started looking at my photographs in a new light. When I put the photos together I could see that this felt true to me. I wanted to share some of the more recent pictures that I have taken at the market, Plants do feed the soul as anyone who has worked in a garden knows.
Edie Schmidt
Are you an artist interested in exhibiting your work? Contact St. Paul's for more information.