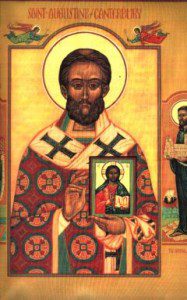 Longtime Georgia iconographer and iconography teacher Louise Shipps has helped direct many in the diocese to express the glory of the Christian story through art. And one of her icons has received special recognition from the archbishop of Canterbury.
When she and her husband bishop Harry Shipps attended a Compass Rose Society meeting for the worldwide Anglican Communion, she heard Archbishop of Canterbury George Carey express a desire for an icon of St. Augustine of Canterbury.
By the time the society met again in London, she had finished the icon for him. Receiving it, the archbishop told Mrs. Shipps he would put it in his chapel at his residence in Canterbury.
It and an icon she did of the Virgin and Child were featured in Anglican World magazine.
Developing the design for the icon, Mrs. Shipps studied ancient prototypes and research materials in an effort to remain faithful to tradition. In the central panel the saint appears in traditional frontal pose robed in chasuble embellished with Canterbury crosses. Draped around his shoulders, its end hanging from the left shoulder front and back, is the pallium ornamented with crosses.  It wraps over the left hand which holds an icon of Christ.
For scale and pictorial clarity Mrs. Shipps represented the smaller icon as Christ Pantocrator whose right hand is formed into a traditional gesture of blessing as is the hand of St. Augustine.
The left margin depicts St. Gregory of Rome holding a jeweled Book of the Gospels as tradition indicates St. Augustine carried with him to Britain.  St. Gregory wears chasuble, pallium, mitre and pontifical sandals.
In the right margin St. Augustine is twice depicted as a monk arriving in a boat with two other representing his group of fellow monks and as standing on the ground of Kent. He holds a replica of the present cathedral. Archangel St. Gabriel in green carries the cross while St. Michael in red holds the bishop's staff.
With the continued interest in iconography evident throughout the diocese, Mrs. Shipps continues to lecture and teach.