St. Paul's is a place where music abounds.
As one of the few Savannah Episcopal churches celebrating a weekly sung Eucharist, you'll have an opportunity to hear the Parish Choir each week, accompanied by organ and piano.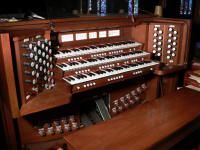 The present organ is a Fratelli Ruffatti pipe organ, from Padua, Italy.  A three manual pipe organ console, built by Rodgers of Hillsboro, Oregon, controls it.  The Ruffatti family has been building instruments since 1940. The firm is deeply rooted in the 300 year history of organ building in Padua. Ruffatti has built instruments all over the world, including all of the organs in the Vatican as well as many Cathedrals in Europe and the United States.
Designed to be an eclectic instrument, it has the ability to successfully play all periods of organ composition, making it excellent for recitals as well as the support and encouragement of congregational singing.  Built in 1976 the organ contains 25 ranks of 1,403 individual pipes divided into four divisions — the great, the swell, the pedal and the choir/positive.  In 1998 the instrument was overhauled and restored by A. E. Schlueter Pipe Organ of Lithonia, Georgia, at which time a new Rodgers console was added.  The new console was made available through the generosity of the people of St. Paul's and a generous gift of Gordon C. Carson, III, MD, sometime organist of St. Paul's.  Also, through the generosity of Arthur and Susan Schlueter, the restorer added a nine-bell zimbelstern.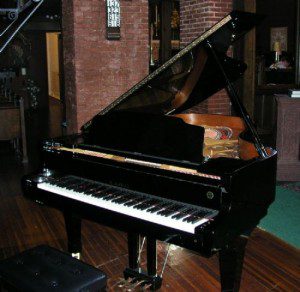 The 7′ Kawai competition grand piano was given to the church in 2008 through the generosity of an anonymous member.  The piano is the first placed in the church.
In addition to providing a place for weekly music in worship, St. Paul's provides a home for a variety of local musical groups.
The Savannah Children's Choir founded in 2006 by parishioners of St. Paul's, met here from 2006 until 2014, until the choir grew so large it needed to find larger rehearsal space.
The Goliards are a group of early music enthusiasts who rehearse at St. Paul's as they prepare their productions.  Recent concerts include "From Shetland to Galicia" and "Message from Gabriel"
In addition to providing rehearsal space for a variety of groups, St. Paul's also makes its' architecturally beautiful church available for concerts. As a popular concert venue, St. Paul's welcomes inquiries from those wishing to use the space as a recital or concert location.  Recent concerts have featured I Cantori, Noteworthy Duo, Armstrong Atlantic State University Chamber Choir, various piano recitals and others.
For more information, contact St. Paul's Music Director.